Video: Meet the very first composite Hull Vane®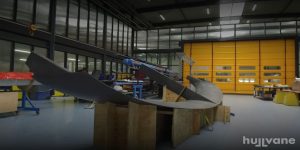 Also during the corona crisis, new babies are born: like the very first Y-shaped Hull Vane®. With a wingspan of no less than 8 metres, this is probably the largest hydrofoil in the world. The goal: to optimise the performance and comfort of a super yacht by making fewer waves.
For the production of this unique Hull Vane®, the eponymous company Hull Vane asked us to bring in our knowledge and skills of carbon composite and the making of hydrofoils. Because composite is lightweight, extremely strong and can be made in any desired stiffness and design.
This new Ψ-shaped composite Hull Vane® is up to 5 times lighter than the same construction in steel. Composite can also be shaped precisely in the conceived round curves and flowing lines, while a steel variant is much more difficult to shape. In addition to more than 25 years of experience with composites, we also have all the necessary tooling in-house. By means of the 5-axis milling machine, the carbon parts for bonding were milled back to size. The curing in the Autoclave was done in 5 parts.
This was also an interesting and challenging project for our hydrofoil experts, because many hundreds of layers of carbon pre-preg were used to achieve the right strength and stiffness. The middle part of this Hull Vane® is solid, the outer parts hollow. In only three months' time the new Ψ-shaped Hull Vane® was created, which, thanks to its graceful and flowing lines, will have an even more efficient effect on the intended super yacht.
For this special project DNA Performance Sailing took care of all the production steps: from making the moulds and assembling the different parts, to spray-painting/coating. Watch the composite building process in this video:
Are you curious about the many possibilities that composites offers for your projects? We love to tell you!